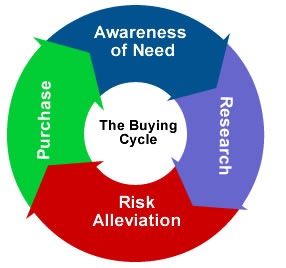 Manufacturing companies are like people: they are unique but have many similarities that allow us to generalize. This next series of blogs will generalize a few things, but keep in mind they are not the "rule" for all manufacturers, all the time.
This series will be breaking down our latest e-book "28 Elements of a Modern Manufacturer's Website." In the e-book, we give an overview of all the elements you'll need to have a modern website, from concept to creation.
When developing the concept for your website, one thing that is consistently overlooked is considering the buying cycle into your website design.
Some manufacturers sell directly on their website to the public, some sell only to dealers with a unique login, some are more of an industrial model.
Your website should mimic and enhance the buying cycle that you are currently using to sell to the public, your dealers, or industrial purchasing.